Banner Sample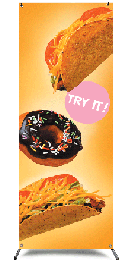 You can make crisp, clear banners with original picture images better than printing by hand by printing data as it is on your computer.
It is possible to print out anything (mixing bitmap or vector method) that you are able to upload to your computer such as images, graphics and photos, and create various images using computer graphics software.
Banners are extremely economical and very useful for advertising. They work well outdoors as they do not run in water and colors will not change under natural light more than for 6 months. Easy to attach with rings on all four sides.